Paper Bag Flooring Helpful Articles & Reviews
Paper Bag Floor: Helpful "how to" articles
A collection of articles to help you have a successful DIY projects!
My screen system has ZERO gaps, they are easily tightened, have zero storage issues and are incredible for wind resilience… NOT TO MENTION they are standing the test of time. This is my fourth summer and the screens look fabulous!
---
Enjoying a bug free area where you and you family can eat & relax is more than a convenience, it's becoming a necessity, especially according to these maps from the US Department of Heath and Human Services.
---

So… you are starting to think about summer vacation and spending a few weeks in your tired out RV… those gross, dusty carpets have got to go before your first camping trip… you can't possibly endure another season with those.
BUT you don't want to break the bank… after all, the more you save, the more money will be left to enjoy your summer vacation… right? Right.
---
Many people decide to take on a do it yourself project to save themselves a ton of cash in labor for a professional. After all, how hard can it really be?
---
Replacing your old worn out flooring doesn't have to break the bank! Perhaps, you are like many people, and one of your new year's resolutions is to get your spending under control… but how can you keep with your new financial plan when your tired and worn floors need attention ASAP?
---
Paper Bag Floors and Pets?
It's not a typo… paper floors are legit. They're a budget-friendly, beautiful and durable option for your home, even for those of you that have 4 legged friends.
For me, I'm an east coast Canadian girl and my entrance floors need to be able to handle four rugged seasons and four-legged friends too. The amazing thing about paper bag flooring is that the protective finish you choose literally has the ability to withstand dirt, water, and pounding feet.
---
5 Reasons I Chose Paper Bag Flooring for My Home
Are Paper Bag Floors Actually Made of Paper Bags?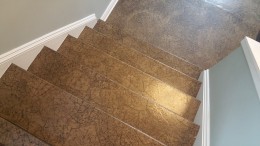 Contrary to their name paper bag floors are typically not actually made of paper bags. This flooring is often constructed using a roll of brown builder's paper or craft paper. Perhaps in it's earliest days paper bag flooring was created by those grocery bags but these days, people mostly stick to a super cheap, roll of brown kraft or builder paper. Paper bag floors like mine pictured in this article are found all over the internet which you will see if you take the time to search this type of flooring out…
---
How Long Does Paper Bag Flooring Last?
First of all, I would like to say, I laid almost 1000 sq.' of paper bag floor in my home, with success! BEFORE I even considered this project I researched like a mad woman to find any helpful info I could. I searched for the common denominators that seemed to produce a long lasting, beautiful, paper bag floor…
---
Paper Bag Floor Instructions   
STEP ONE:
Clean & prep the floors. You can't expect a nice finished product without prepping the area. It doesn't take long… but DO IT.
•if you are planning to apply paper bag flooring over plywood, seal the cracks between the sheets of wood. If not, the seems WILL show through.
•we also applied paper bag flooring over hard vinyl tile with success. In this case scrub the floor with TSP to remove any dirt and grime that will hinder the paper from adhering.
•vacuum thoroughly…
---
Paper Bag Flooring is a CHEAP and Beautiful Floor Option!
Yes, you read it right… cheap and beautiful flooring can be achieved. My personal search for a cheap flooring option a few years ago was how I discovered this fantastic idea. Apparently this flooring has been around for years… and the clincher… it lasts. That's what caught my attention; a flooring option that lasts, is beautiful and CHEAP! Bingo baby!
---
2 Steps to Create a Paper Bag Floor that Looks Like Wood!
The backstory: A few years ago I was on the hunt for an affordable flooring solution for my spacious entrance. I was pleasantly surprised when my google results stumbled upon paper bag flooring. This caught my attention! Can I actually create an attractive floor using paper? Tell me more… I thought. The more I dug, the more I realized that this was a legitimate option for our home and entrance…
---
How to Clean Paper Bag Floors
I have almost 1000 sq.' of paper bag flooring in my home. I also have 4 children, ranging in age form 5 years to 16 years. I work, as does my husband. All of this equals not much free time. I do, however, function at a much lower rate of productivity in a messy and dirty home. All that being said…
---
 4 Things to Consider Before Your First DIY

So you're obviously considering attempting a "DO IT YOURSELF" project. Perhaps you gave in and signed up for Pinterest and before you knew it, you have a list of projects you would like to tackle.Before you even consider a DIY project you must be sure to do these 4 things to set yourself up for a success…
---
Is Paper Bag Flooring Durable?
There are many factors that play into the durability of paper bag floors. In any project, if you don't know what you're doing, you can't expect a happy ending. In my experience, after laying almost 1000 sq.' of paper bag floor, on several surfaces, I can say they are very durable HOWEVER here are 3 things I don't overlook while laying paper bag floor…
---
Why I Chose Paper Bag Flooring: My Personal Review
Paper bag floors are found all over the internet in a variety of styles & colours. They are surprisingly durable considering what they are made of… brown paper. Despite their name, paper bag floors are often constructed using a roll of brown builder's paper or craft paper, rather then a bunch of recycled brown shopping bags.  Perhaps in it's earliest days paper bag flooring was created by those grocery bags but these days, people mostly stick to a super cheap, roll of brown kraft or builders paper…
---
Paper Bag Flooring on Stairs?
Stairs are often a high traffic area in the home. Choosing flooring for stairs is a bid decision and must be given much thought and careful consideration.
I have shared a few tired looking stair treads below. Wood, carpet and paint… all are prone to show wear, especially in an entrance…
SaveSave
SaveSave
SaveSave